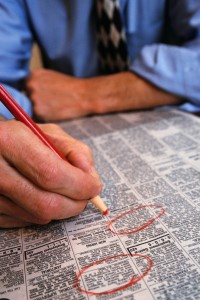 We've scoured the top job sites including Monster.com, Dice.com as well as other specialized healthcare and compliance sites to bring you ten interesting HIPAA jobs that you'll want to check out.  How would you like to work at a hospital for children as the Director of Medical Records in Brighton, MA?  Or perhaps working for Kaiser in Denver might be of more interest.  Either way, read on to see some of the most interesting HIPAA jobs nationwide.  We're going to try to make this a regular feature of HIPAAnews.net so be sure to subscribe to our RSS feed so you don't miss out!
Job list compiled on October 5, 2009.
Job Title: SEBMF- Director of Health Information & HIPAA Privacy Officer SEBMF- Director of Health Information & HIPAA Privacy Officer
Company: Sutter East Bay Medical Foundation
Location: California-San Francisco East Bay and Solano-Lafayette
Job description: Provides direction for the Health Information/Medical Records Departments of Sutter East Bay Medical Foundation, supports the strategic objectives of the organization, and ensures compliance to regulatory requirements/statutes.
Responsible for daily functions surrounding the medical record; creates policies and establishes workflow transition processes during and post EHR migration to include transcription services. Creates policies and procedures related to electronic data transmission, storage, and HIPAA regulations, manages electronic health record, and acts as system administrator for HIMS related IT systems. Establishes organizational structure and ensures implementation of "best practices" for Health Information Management. Responsible for staffing, budgeting, and facility development for Care Center Health Information/Medical Record Departments.
The Director of Health Information & HIPAA Privacy Officer reports directly to the Chief Operating Officer. Reporting to the incumbent are Care Center Medical Records Department leads and supporting staff with a dotted line to the Care Center Manager…
Click here to read more about this position.
Job Title: Corporate HIPAA Compliance Manager
Company: Health Management Associates, Inc
Location: Naples, FL
Job description: The Corporate HIPAA Compliance Manager assists in the development, implementation and training of the organization's HIPAA policies and procedures to comply with federal and state laws regarding privacy and security practices. This organized leader will provide internal and external communications expertise for ongoing HIPAA efforts and serve as a resource for questions regarding application and interpretation of the HIPAA regulations. Builds awareness throughout the organization to educate and motivate employees and management — making HIPAA understandable to specific target audiences. Maintains critical communication pathways across entire corporation with all designated HIPAA Officers. Additionally, the Manager oversees progress reports to corporate Senior Management and develops training events to enhance compliance…
Click here to read more about this position.
Job Title: HIPAA Systems Development Support
Company: Computer Sciences Corporation
Location: Menands, NY
Job description: This candidate will work on HIPAA implementation, issues remediation, and will assist in the development of the Privacy and Security Policies and Procedures. Much of this work means being assigned to and following various listserv such as NCPDP, X12N, DISA, NMEH, Wedi-SNIP and others. Some travel will be required to work with the industry groups and standards development organizations in the development of HIPAA Implementation Guides and technical reports. This candidate will participate on weekly and biweekly teleconference meetings. This involvement is key to ensure CSC's and DOH's interests are addressed and taken into consideration whenever changes are requested for the various Implementation Guides or technical reports. This candidate will work with Trading Partners helping to bring them to HIPAA compliance and keeping them informed of how HIPAA requirements affect the Medicaid transactions and will travel to various sites to do HIPAA transaction training and teach the Trading Partners the tools necessary to assist them in submitting successful production HIPAA transactions…
Click here to read more about this position.
Job Title: Director of Medical Records
Company: Franciscan Hospital for Children
Location: Brighton, MA
Job description: Develops and implements policies and procedures for documenting, storing, and retrieving information, and for processing medical-legal documents, insurance data, and correspondence requests, in conformance with federal, state, and local statutes. Supervises staff, in preparing and analyzing medical documents. Participates in development and design of computer software for computerized health information system. Responsible for Inpatient, Psych, Outpatient, Dental, Home Health, and other program medical records. Duties include a significant amount of time assembling, analyzing and coding (diagnostic, procedural & E&M) medical records especially with Inpatient, Inpatient Psychiatry, Outpatient, Dental and other non-hospital program records. Coordinates medical care evaluation with medical staff and develops criteria and methods for such evaluation. Develops in-service educational materials and conducts instructional programs for health care personnel. Prepares department budget…
Click here to read more about this position.
Job Title: HIPAA Compliance Administrator
Company: Woodbury Technologies, Inc
Location: San Antonio, TX
Job description: HIPAA Privacy and Security Compliance Monitoring. The specialist shall assist Privacy and Security Officers with the planning and execution of periodic risk assessments and ongoing privacy and security compliance monitoring activities. …The specialist shall coordinate with government leadership and assigned Privacy and Security Officers to assist with, and support organizational activities related to the development, implementation, maintenance of, and compliance with the Privacy Act and HIPAA privacy and security requirements as mandated by Federal, DoD, and AFMS policies and procedures.
The specialist shall organize ongoing HIPAA compliance activities, noting requirements, milestones, timelines, and resources. This shall incorporate and address all overlapping organizational privacy and security issues, which affect the protection of health information…. The specialist shall provide an Education, Training, and HIPAA Awareness Plan which outlines specific efforts taken to meet educational and training needs to promote privacy and security awareness in order to protect health information and Privacy Act data…. Facilitate a map/gap analysis and evaluation of policies, processes, procedures and instructions as they relate to privacy, security and the protection of individually identifiable health information/protected health information…. Review/assess all locally maintained business associate agreements to ensure compliance with HIPAA and Privacy Act…
Click here to read more about this position.
Job Title: Data Specialist/SAS Programmer
Company: Kaiser Permanente – Colorado Region
Location: Denver, CO
Job description: The Data Specialist / SAS Programmer 2 works in conjunction with the Statistical Analysts and Programmers to manage all aspects of data manipulation, ensuring data quality and maintaining data integrity for one or more complex studies through the use of high level SAS programming. As part of the research team, the Data Specialist / SAS Programmer 2 is responsible for providing expertise on efficient and appropriate use of data. … Coordinates with the HIPAA compliance officer to make sure all data use, manipulations, storage, and transfers meet the required HIPAA guidelines….Starting salary range is $49,000 – $74,000 DOE plus excellent benefits package…
Click here to read more about this position.
Job Title: Meditech HIM (MRI) Client-Server Implementation Expert – Lead Analyst experience
Company: CyberCoders
Location: Los Angeles, CA; Seattle, WA
Job description: Due to continued growth, we need to add dedicated Implementation Specialist to our Meditech team. In this role, you would act as Lead Analyst on Meditech HIM (MRI) system installs within a client/server environment.

This is a travel job and you can be based from any city in the Western USA as long as you are willing to travel Monday thru Thursday. Travel will be within the south western USA… This is a full time gig working as a traveling consultant… We work hard but keep it manageable! We love our consultants and reward them generously with bonuses….Salary range is $85,000 – $110,000…Skills required: Meditech Client/Server, Team Leader, Nursing Informatics, Electronic Healthcare Systems, Electronic Medical Records, HIPAA, Meditech C/S 5.6 Platform…
Click here to read more about this position.
Job Title: Lead ETL/ Claims (HIPAA) Tester
Company: Mastech Inc
Location: Pleasanton, CA
Job description: We are currently seeking Lead ETL/ Claims (HIPAA) Testers for our client in the Healthcare domain. …Create Test Scripts in co-ordination with Business and verify data loaded from source to staging to Data warehouse. 
Work in conjunction with the Business Analysts, Solution Consultants, and ETL Team to create, modify, or update Test Scripts.
 Perform analysis, design, and create Test Cases, documentation, and execution of Test Scripts. 
Follow testing guidelines, standards, and procedures.
 Participate in requirements, design, and code reviews, and get the big picture.
 Lead the project independently and communicate with Business Analysts, ETL Developers, and Business Team…Compensation: $50 – $55/ Hourly on W2…
Click here to read more about this position.
Job Title: HIPAA Billing & Payment Associate
Company: CVS/Pharmacy
Location: Woonsocket, RI
Job description: Work closely with Third Party agencies to gather specifications and test materials required for conversion to HIPAA II mandated transaction standards. Assist Third Party business and IS personnel in mapping HIPAA transaction data, developing Third Party reporting requirements, performing agency data validation and project documentation requirements. Assist in successfully implementing NCPDP and HIPAA ASCX12 standard requirements for Third Party agencies…
Click here to read more about this position.
Job Title: BUSINESS PROCESS ANALYSTS – Health Care Insurance
Company: LOGIN Consulting Services
Location: Ventura County, CA
Job Description: Major health care insurance company has a 3+ month contract available for Business Process Analysts experienced with the insurance/Medicare operations. The Analysts should have HIPAA and EDI experience. Candidates cannot be considered unless they have health care insurance industry experience.

The Process Analysts must be able to facilitate meetings, collaborate with both business and IT organizations, have excellent documentation and communication skills and be self motivated.
The Analysts will obtain the business requirements and will communicate those requirements to the IT operation such that the detailed and technical requirements can be produced.
Click here to read more about this position.