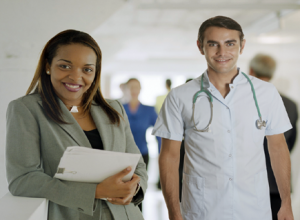 Looking for a change of scenery for the New Year? Current job more trick than treat Once again we have scoured the job boards to bring you some of the hottest HIPAA career opportunities out there this week.
HIPAA Program Analyst
Molina Healthcare
Long Beach, CA
The HIPAA Program Analyst provides guidance and support for HIPAA compliance activities as a member of MHI's HIPAA Program Management Office (PMO).  Areas of responsibility include assessing the operational compliance of business unit operations, development of policies and procedures, review of PHI requests, review of business associate agreements, execution of projects and consulting on business development initiatives.
Information Security Professional – Healthcare – HiTrust
Cybercoders
Dallas, TX
If you are an Information Security Professional with at least 5 years of consulting experience, preferably in the Healthcare industry, please read on!
A global business consulting and internal audit firm that specializes in risk and advisory services is in need of an Associate Director and Manager for its Healthcare Practice located in Dallas, TX.
These positions will be focused on assisting clients with the challenges related to information security and the increasing risks and liabilities facing the Healthcare Industry. Our service delivery ensures that well-defined policies, processes, and operational practices exist in the Healthcare organization. Performing HITRUST Common Security Framework (CSF) assessment and gap analyses is key to this effort.
EDI/HIPAA Analyst
Roni Media
Fort Lauderdale, FL
3+ years of experience in the healthcare industry with EDI/HIPAA transactions and EFT transactions including ASC X12N 276,277,834,835,837,997, and 999
* Experience analyzing and developing functional and technical requirements
* Previous work experience in a Customer Support environment
* Strong verbal and written communication skills
* Ability to work with clients* vendors and trading partners
IT Responsibilities
* Collaborate with the development and ensure compliance to requirements
* Create and maintain payer companion guides to accommodate HIPAA compliant transactions to meet business needs
Business Responsibilities
* Implement and monitor day-to-day EDI processes, including logging of transactions received, processing EDI transactions into the company*s system(s)
* Acts as primary point of contact regarding EDI information for clearinghouses, IPAs, providers, and provider groups.
* Produces policies, procedures and user guides related to electronic data interchange.
* Implements file format changes as dictated by ANSI, MCNA or other organizations (e.g. conversion from 4010 formats to 5010 formats).
* Perform outsource EDI Coordinator duties, which include interfacing with EDI business partners, implementing new EDI trading partners, adding transactions to existing partners, managing EDI maintenance queues on a daily basis, and making minor mapping changes.
* Create internal instructional and procedural documentation.
* Support trading partners and clients on day-to-day activities related to electronic data transmissions.
MIS – Info Tech / Telecommunications
SAIC
Rockville, MD
THIS IS AN AMERICAN RECOVERY AND REINVESTMENT ACT (ARRA) FUNDED POSITION. The Cancer Bioinformatics Grid (caBIG®) is a 21st century information initiative of the National Cancer Institute Center for Biomedical Informatics and Information Technology (NCI CBIIT). SAIC-F seeks to identify and hire qualified candidates for the position of caBIG® Clinical Information Suite Healthcare Informatics Business Analyst. This candidate's work will be outward focused. The National Cancer Institute's (NCI) caBIG® Clinical Information Suite is the project to create the oncology extended Electronic Health Record (EHR) capability.
Integration and usage might include collaboration with EHR vendors and providers to implement the specifications, incorporation of NCI's source code and/or specification adaptation by open-source and/or commercial vendors; or deployment of a full reference implementation of the EHR based on an existing open-source EHR platform that may be deployed to sites as needed. They will perform and/or manage informatics related analysis activities including stakeholder interface, analyst management, requirements gathering, information modeling, business architecture modeling, use case modeling, and domain analysis modeling. Candidate will be able to review and provide feedback on work from other analysts. They will communicate effectively with high level research and IT personnel on a variety of demanding/technical projects. Candidate will develop novel analysis tools and serve as a local authority on application questions.
Director of Risk Management
Advanced Medical Resources
Batesville, MS
Director Risk Management – MS The director of Risk Management will direct and coordinate the hospital-wide (including hospital owned physician practices and clinics) Risk Management Program in compliance with federal, state, and corporate regulations.  Integrates the Risk Management Program with the hospital's primary functions. Develops and implements risk/safety management policies and procedures that guide and support the Risk Management Program. Reviews policies and procedures annually and revises as needed. Coordinates the proactive patient safety program in conjunction with the risk management department. Serves as the Director of Patient Safety or collaborates with that position on a regular basis to promote safe patient outcomes. Serves as the central point of accountability within the facility for HIPAA.