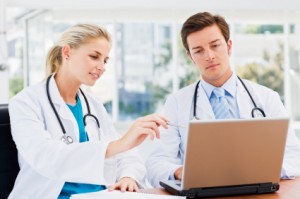 According to a new survey preventing patient data security breaches is the number one priority for the majority of healthcare IT decision makers but it also shows that some are still struggling to comply with all security regulations.
The 2010 Healthcare IT Survey is a study carried out by Zoomerang,  an online services provider on behalf of Imprivata, a company that develops enterprise authentication and access management solutions and is based in Lexington, Mass. The survey was conducted amongst 600 decision-makers across hospitals in the U.S. and Canada.
80% of respondents said that securing patient information from unauthorized access and data breaches is a top priority in their organization and 76 percent claim breach of confidential HIPAA protected information or unauthorized access to various clinical applications as their greatest security concerns. A full 97% of those surveyed said their organizations planned on spending more on IT security in 2010 than they did in 2009.
And the HITECH act it seems is only complicating things for those in healthcare IT.
Challenges cited by respondents for complying with the HITECH Act included employee education (46 percent), costly updates (43 percent) and meeting deadlines (37 percent). Nineteen percent of respondents said they themselves do not understand the HITECH Act.