Aug. 8, 2008: QuadraMed CEO Keith Hage, one day after signing a 15.8 million contract with Los Altos Hills, Calif.-based Daughters of Charity Health System, rang the NASDAQ closing bell. The bell comes also one day after QuadraMed unveiled its Smart Identity Exchange, or Smart I/X, a software system QuadraMed says is designed to integrate patient information for medical facilities.
Smart I/X uses a probabilistic algorithm to identify, reconcile, and manage patient records is described by QuadraMed as "a valuable tool for organizations aiming for HIPAA compliance."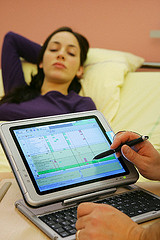 Hagen said: "Smart I/X significantly improves an IDNs ability to deliver consistent and cost-effective high quality care by providing physicians immediate access to comprehensive patient information to help them make more informed and safe decisions at the point of care. In addition to efficiently unifying individual patient's historical and most current information, Smart I/X enhances enterprise-wide care coordination and minimizes duplicate and overlapping records, all of which reduce unnecessary tests, treatments and medical errors."
It is unclear at this time what information is available to whom on this system. Patients may want to inquire of their lawmakers how HIPPA laws are applicable to system-wide availability of private medical information across the medical-worker spectrum.
Read more: http://www.silobreaker.com/DocumentReader.aspx?Item=5_888804371 and
http://www.chron.com/disp/story.mpl/metropolitan/5931497.html.